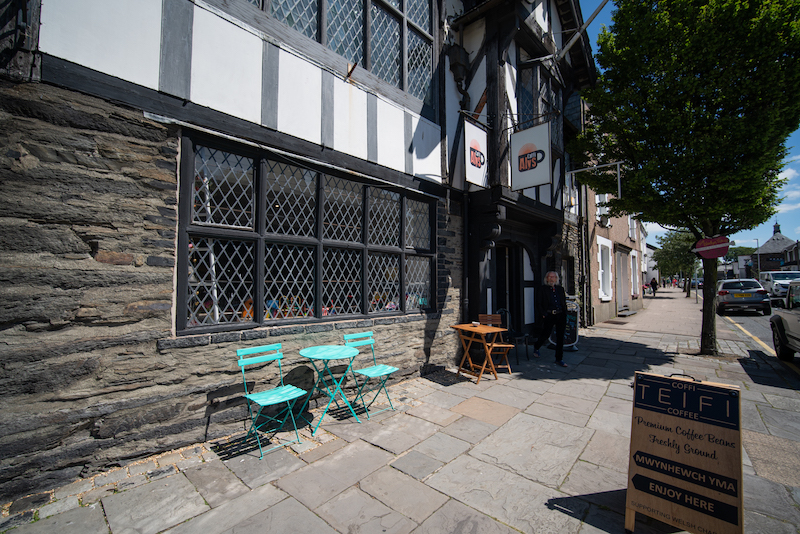 Located at the historic heart of the market town of Machylleth lies a small cafe called Caffi Alys. It is well-known in the area as a haven for Welsh speakers and those learning the language.
The staff consists of a mix of first-language speakers and learners, all of whom are accustomed to learners of all levels coming into the cafe to try out their Welsh at the counter. Although they will usually greet unfamiliar customers in English, they will happily switch over as soon as they hear you speak Welsh, no matter how rudimentary it is. Personally, the fact that I know I can use my Welsh there and always be met with a smiling, helpful face gives me great confidence.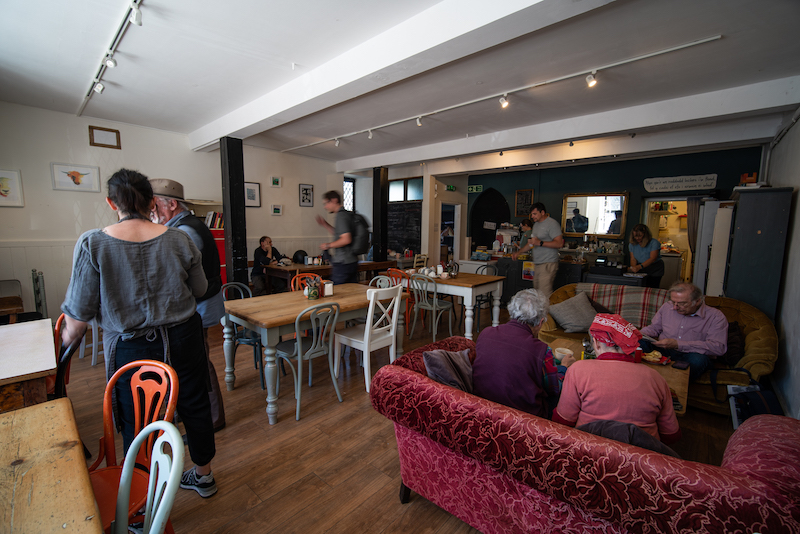 But what if you aren't a Welsh speaker? Well, you can rest assured that non-Welsh speaking locals and tourists are just as welcome as everyone else at Caffi Alys. In fact, it is quite a popular stop-off for people travelling through Wales on their holidays.
Caffi Alys also plays host to 'Say Something in Welsh' meet-ups, which take place every second Saturday of the month at 10:30 in the morning, as well as numerous Welsh language gigs featuring both established artists and rising stars from the area. Directly above the cafe is Siop Siarad, a weekly language class for intermediate learners run by Welsh tutor Rhiain Bebb.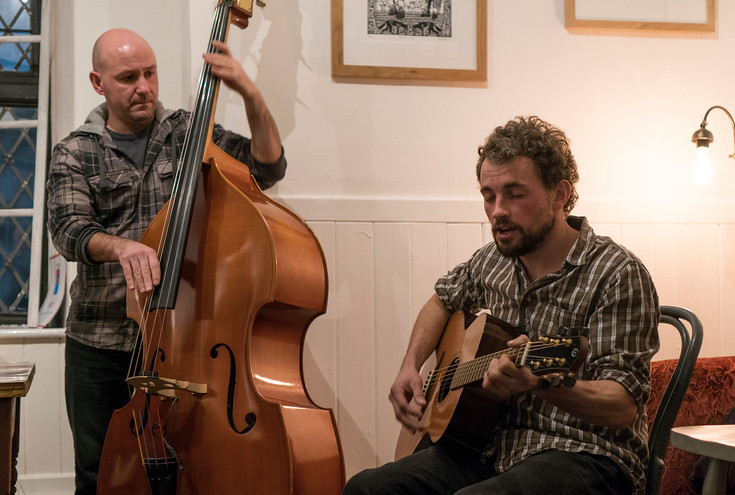 The cafe opened back in late 2016 inside a section of the Canolfan Owain Glyndŵr and offers a wide variety of food including vegetarians and vegan-friendly dishes. In addition to your basic sandwiches and paninis, you can also indulge in one of their daily specials, my favourite being the rather splendid lentil and chickpea soup. They make an amazing latte, and my Italian husband – who is ever so picky about his coffee – told me that their americano is one of the tastiest he's ever had. It's also hard to resist the scrumtious cakes and biscuits, which are always strategically displayed right in front of your nose at the counter!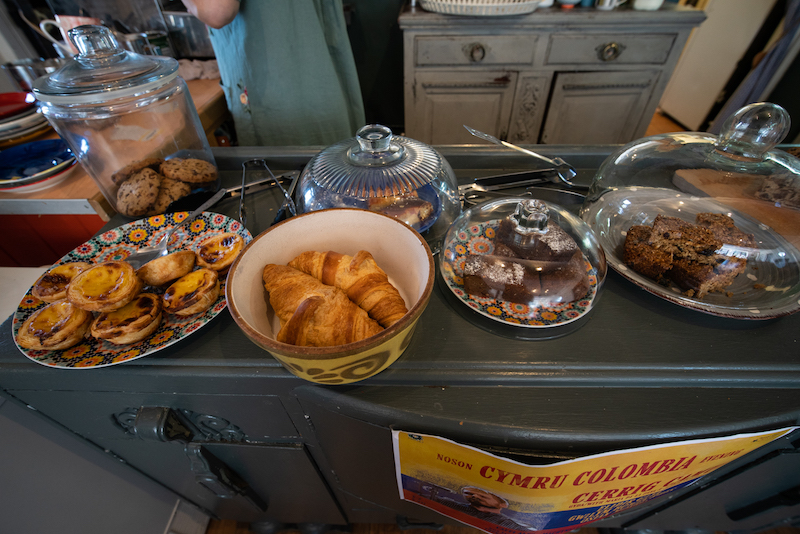 The location itself is nice and bright in the summer with both indoor and outdoor seating, and during the winter months, there is nothing like curling up on the couch next to the cosy fireplace, hands wrapped around a warm cup of hot chocolate.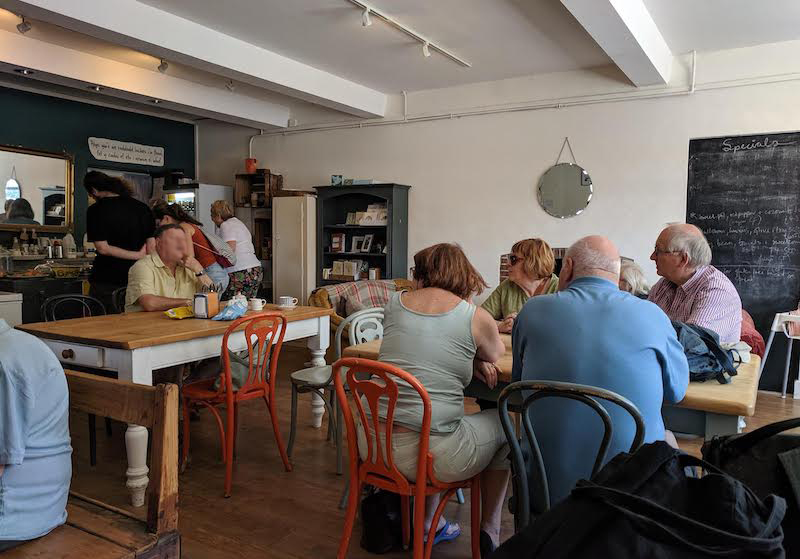 Something you might notice as you wait for said hot chocolate is the Welsh quote above the door to the kitchen:
"Alys yw'r un roddodd loches i'w thad, fel y codai ef eto i arwain ei wlad."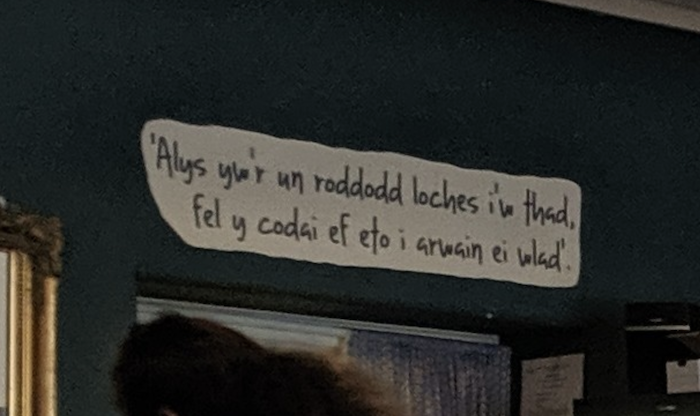 This is a direct reference to Owain Glyndŵr's daughter Alys, who is said to have sheltered her father during the final years of his life following the revolt against Henry IV of England. I find it touching that the owner Gail decided to name the cafe after her in light of its close connection with the Owain Glyndŵr Centre.
If you are in the Machynlleth area and want to give your Welsh a try, make sure to fit in a stop at Caffi Alys. Lots of Welsh learners and speakers enjoy hanging out there, so you might even make a new friend or two! 😉