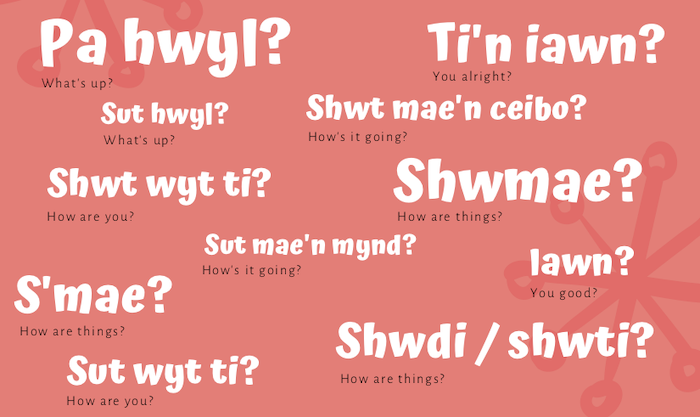 When you sign up for a Welsh course, one of the very first survival phrases you'll learn is "How are you?". This "cyfarchiad" (greeting) can be expressed in two different ways:
the colloquial "Sut wyt ti?" (NW) / "Shwt wyt ti?" (SW)
the formal or plural "Sut 'dach chi?" (NW) / "Shwt 'ych chi?" (SW)
Another casual greeting you'll certainly encounter is "Sut mae?" (Hello, how are things?) which is pronounced as "Shwmae?" in the south or "S'mae?" in the north.
Now, there's nothing wrong with any of these textbook greetings, but as in every language, native speakers love to spice things up with creative expressions. Let's have a look at a few of them now!
---
Pa hwyl / Sut hwyl / Sut mae'r hwyl?
These informal expressions featuring "hwyl" ("fun" or "mood") are very similar to the greeting "What's up?" in English. The literal translation is along the lines of "What mood (are you in)?"
---
Sut / Shwt wyt ti…?
Welsh speakers love tacking terms of endearment onto the end of "Sut/Shwt wyt ti?" when greeting family members, friends and other close acquaintances. Some popular ones I've come across before include:
boi (boy) or bois (boys)
mêt (mate)
del (pretty)
blodyn (flower)
gwas, was or 'washi (servant/lad)
poni (pony)
blew (hair)
cariad (love)
pwt (little one)
byt (pal, buddy)
Note that you should avoid using any of these with people you don't know very well or those who are older than you.
---
Ti'n iawn?
The most common way of greeting people these days is with the expression "Ti'n iawn?" (You alright?") or just "Iawn?" if you want to keep things short and sweet. Feel free to use this one with your favourite terms of endearment as well!
---
Sut/Shwt mae…?
There is a handful of verbs that can be used with "Sut/Shwt mae'n…" the most common being:
Sut mae'n mynd? (How's it going?)
Shwt mae'n ceibo*? (How's it going?)
(Ceibo comes from the verb "ceibio" which literally means "to dig with mattock, hoe, delve, pare surface of land.")
As in English, you can also use the expression "How are things?" which translates as "Sut mae pethau?" in Welsh.
---
Shortening "Sut/Shwt wyt ti"
In some parts of Wales such as Carmarthenshire and Pembrokeshire, the phrase "Sut/Shwt wyt ti?" will merge into the single word "shwti" or "shwdi" depending on your pronunciation. Personally I think it sounds quite cute!
---
'Erbyn hyn'
I've noticed that Welsh speakers often attach 'erbyn hyn' (by now, by this time) onto the end of "Sut/Shwt wyt ti?" when speaking to someone they know has been unwell. For example:
Sut wyt ti erbyn hyn? – O, dw i'n well o lawer, diolch. (How are you now? – Oh, I'm much better, thanks.)
---
Can you think of any other ways of greeting people in Welsh? If so, please share them below in the comment section!