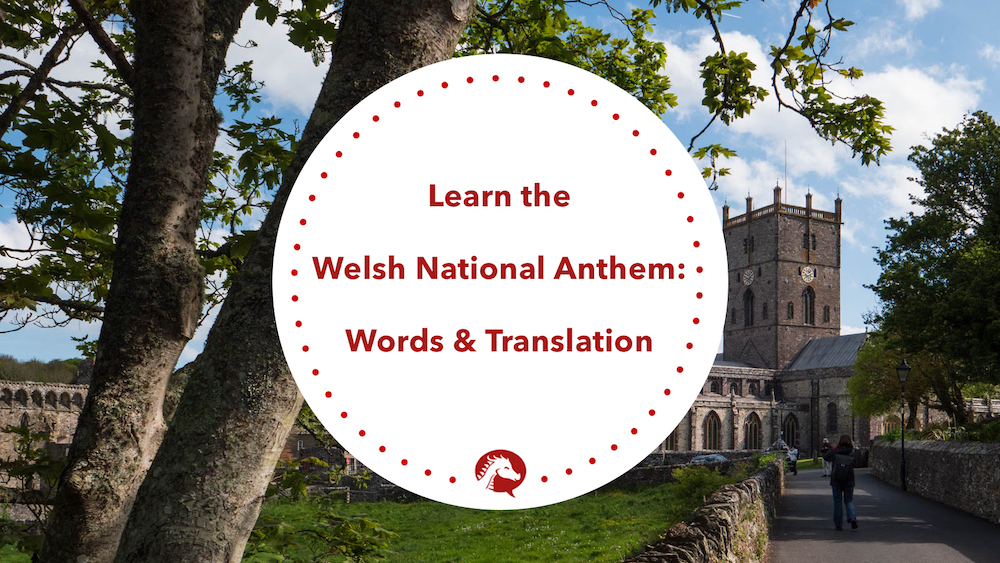 To those who do not live in the United Kingdom, and even to those who do, the Welsh national anthem may be relatively unknown. However, for the Welsh, it is a symbol of their independence and distinctiveness in terms of culture and language. Always sung in Welsh, the anthem is played at any sort of official gathering, from sporting events to government conferences.
In this article, you will find not only the words for the Welsh national anthem, but you will also discover the rich history behind it. With the help of the Welsh pronunciation guide I have provided, you will also be able to learn how to read and sing the words. I do hope you enjoy your journey through a little part of precious Welsh history!
---
Lyrics and Translation in English of the Welsh National Anthem: Hen Wlad Fy Nhadau (Land of My Fathers)
This is the full version of Hen Wlad Fy Nhadau, consisting of three stanzas and a chorus. The version most often sung at important sporting events, official government ceremonies, and school celebrations only consists of the first stanza and the chorus.
We've also included a popular English translation by W.S. Gwynn Williams to help you understand the meaning.
Mae hen wlad fy nhadau yn annwyl i mi,
Gwlad beirdd a chantorion, enwogion o fri;
Ei gwrol ryfelwyr, gwladgarwyr tra mad,
Dros ryddid collasant eu gwaed.
Gwlad!, Gwlad!, pleidiol wyf i'm gwlad.
Tra môr yn fur i'r bur hoff bau,
O bydded i'r hen iaith barhau.
Hen Gymru fynyddig, paradwys y bardd,
Pob dyffryn, pob clogwyn, i'm golwg sydd hardd;
Trwy deimlad gwladgarol, mor swynol yw si
Ei nentydd, afonydd, i fi.
Os treisiodd y gelyn fy ngwlad tan ei droed,
Mae hen iaith y Cymry mor fyw ag erioed,
Ni luddiwyd yr awen gan erchyll law brad,
Na thelyn berseiniol fy ngwlad.
The land of my fathers is dear to me,
Old land where the minstrels are honoured and free;
Its warring defenders so gallant and brave,
For freedom their life's blood they gave.
Home, home, true I am to home,
While seas secure the land so pure,
O may the old language endure.
Old land of the mountains, the Eden of bards,
Each gorge and each valley a loveliness guards;
Through love of my country, charmed voices will be
Its streams, and its rivers, to me.
Though foemen have trampled my land 'neath their feet,
The language of Cambria still knows no retreat;
The muse is not vanquished by traitor's fell hand,
Nor silenced the harp of my land.
---
Welsh National Anthem (Spoken Version)
This spoken version of the anthem by My Welsh should help you learn the words properly before you attempt to sing the tune.
---
Welsh National Anthem Sheet Music
You can download the sheet music for the Welsh national anthem by visiting the following websites.
---
How to Pronounce the Welsh National Anthem
Once you get over the initial hurdle of understanding the differences between English and Welsh pronunciation of words, you will soon find that Welsh actually isn't very difficult to read. This is due to the phonetic nature of the Welsh written language. Every word is written as it sounds, unlike English which has a variety of odd spellings that even English speakers cannot get their heads around!
Below, you will find a list of the difference between English and Welsh pronunciation of letters. With a little practice, you will soon be on your way to speaking (and singing) fluent Welsh!
C = the English 'K' as in 'kid' or 'keys'
CH = A sound that does not exist in English, but is present in German and Scottish. To hear this sound, go here and click on the elongated χ.
DD = A voiced interdental fricative that exists in English as the 'TH' in my name, Heather.
G = Always pronounced as the G in "go" and never as the G in "giant"
LL = Another sound that does not exist in English. Go to make an 'L' sound and once your tongue is in place, blow out, allowing air to pass freely on either side of your mouth. To hear this sound, go here and click on the small letter L with a line through it (lateral fricative).
F = The letter F in Welsh is simply the letter V of "vain" and "veer" in English!
FF = FF, on the other hand, is the same as the English F in "friend" and "foe."
W = In Welsh, W is considered a vowel. This vowel is equivalent to the sound "oo" in English, found in "goon", "platoon", and "moon".
Y = The letter Y in Welsh is also a vowel. It is the one of the only letters whose sound varies according to its placement in a word. It can sound like the 'EE' in "eat", the "I" as in "input" or the "UH" in "under".
---
The History of the Welsh National Anthem
The Welsh national anthem was the result of a father-son musical collaboration. The father, poet Evan James (1809-1878) and his son, harpist and musician James James (1833-1902) thought up the famous tune in January 1956.
It is said that the melody for Hen Wlad fy Nhadau came to James James as he was walking along the banks of Rhondda, which is why the original title of the anthem was Glan Rhondda. Later, his father put words to the music, and it soon became an extremely popular tune in the local area.
The anthem was first performed in 1856 by Elizabeth John of Pontypridd, which was also the hometown of the Evan and James James. At the Llangollen Eisteddfod of 1858, the song increased in popularity thanks to Thomas Llewelyn who had included the song in his collection of Welsh airs. However, it was only when the competition's adjudicator Owain Alaw added the song to his publication Gems of Welsh Melody and changed its title from Gian Rhondda to Hen Wlad Fy Nhadau that the tune became well-known across the entire nation.
Hen Wlad Fy Nhadau, as an anthem, has achieved many feats. It was the first anthem to be sung by a country at a sporting event. It was also one of the first Welsh songs ever to be recorded. Furthermore, it has been reworked by a number of popular Welsh musicians such as Geraint Jarman a'r Cynganeddwyr and guitarist Tich Gwilym. Despite all this, it has never officially been declared the national anthem of Wales by law.
---
Hen Wlad Fy Nhadau sung by Cor Rehoboth Welsh Choir