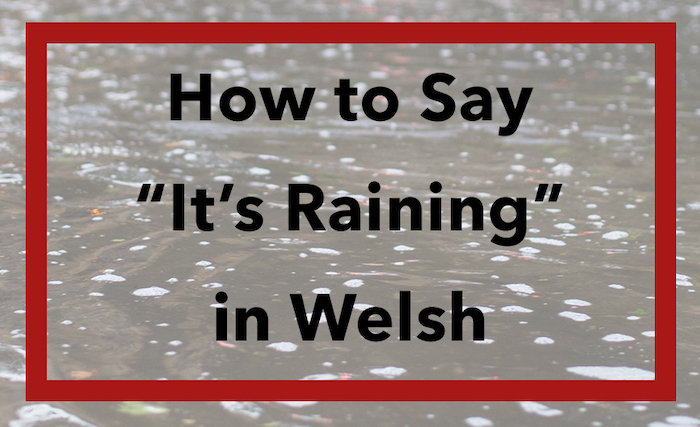 If there is one thing Wales is famous for – besides rugby, sheep and Tom Jones of course – it is the copious amounts of rain it receives throughout the year. It's therefore no wonder that there are numerous ways to talk about the rain in the Welsh language! 🌧️
The standard way to say "It's raining" in Welsh is:
This is the survival phrase you'll encounter in every single textbook for learners. Taken literally, it translates as "It is throwing/hurling/flinging rain".
Now, this expression is fine if you've only just started learning Welsh, but as with every language, native speakers and more advanced learners like to get a little bit creative when describing the weather!
---
First, let's take a look at two famous idioms that can be considered the Welsh equivalent of the English idiom "It's raining cats and dogs".
Mae hi'n bwrw hen wragedd a ffyn. = It's raining old ladies and sticks.
Mae hi'n bwrw cyllyll a ffyrc. = It's raining knives and forks.
---
To say "It's pouring" in Welsh, there are loads of expressions you can choose between, just as in English. Let's take a look at a few of the most well-known ones first.
Important: The broad categories 'North' and 'South' are there to give you a rough idea of where you'll hear these expressions most often. Note that you may well encounter all these expressions outside of their place of origin.
Mae'n stido bwrw. (North Wales)
Mae'n tresio bwrw. (North Wales)
Mae'n tywallt y glaw. (North Wales)
Mae'n piso bwrw. (North Wales – a bit rude!)
Mae'n pistyllio bwrw. (South Wales)
Mae'n arllwys y glaw. / Mae'n ei harllwys hi. (South Wales)
Mae'n diwel y glaw. (South Wales)
---
When talking about light rain, you might come across the following expressions:
Mae'n pigo bwrw. (North Wales) – Spotting with rain, spitting
Mae'n taflu dagrau. (North Wales) – Used when talking about a couple of drops
Mae'n smwcian bwrw. (North Wales) – Used for misty rain
Mae'n chwifio bwrw. (South Wales) – Used for light rain
Mae'n bwrw'n gas. (South Wales) – The same as 'pigo bwrw'
---
Of course these are far from the only expressions you'll encounter while learning Welsh! Each dialect and region has its own way of talking about the rain, so it's worth getting to know the ones that are used in the part of Wales you call home.
Below I've provided a list of the expressions that I've come across so far in conversations with people and through my research. If you see a mistake or if you have an expression you think I should add to the list, do let me know in the comment section below!
Mae'n bwrw'n drwm.
Mae'n glawio.
Mae'n hel glaw.
Mae hi wedi cau am law.
Mae'n stowcio bwrw.
Mae'n stwmpio bwrw.
Mae'n hemo i lawr.
Mae'n tatsian bwrw / tatsian hi lawr.
Mae'n llecho hi lawr.
Mae'n tatshio.
Mae'n hollti glaw.
Mae'n dymchwel y glaw.
Mae'n bwrw brics.
Mae'n bwrw fel ffyn grisiau.
Mae'n hyrddio bwrw.
Mae'n bwrw umbarels.
Mae'r nefoedd wedi agor.
Mae'n bwrw fel o grwc.
Mae'n bwrw glaw yn sobor iawn.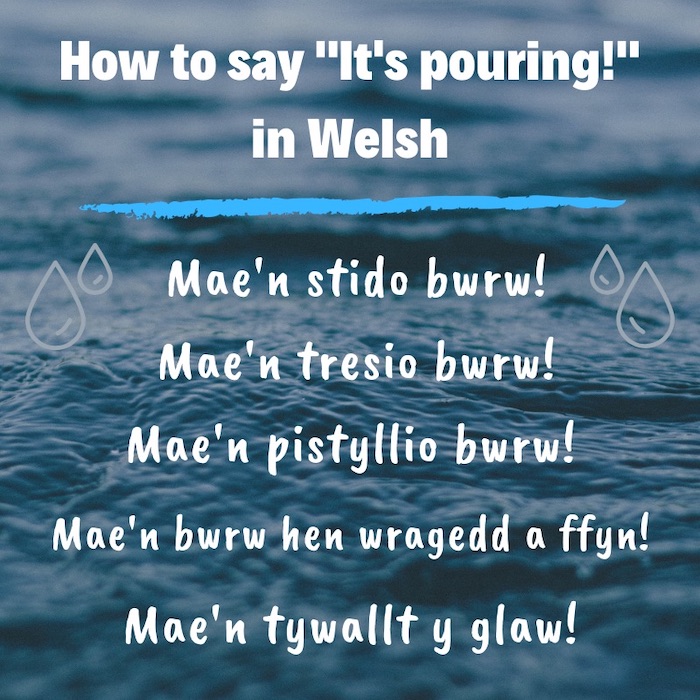 Additional sources: