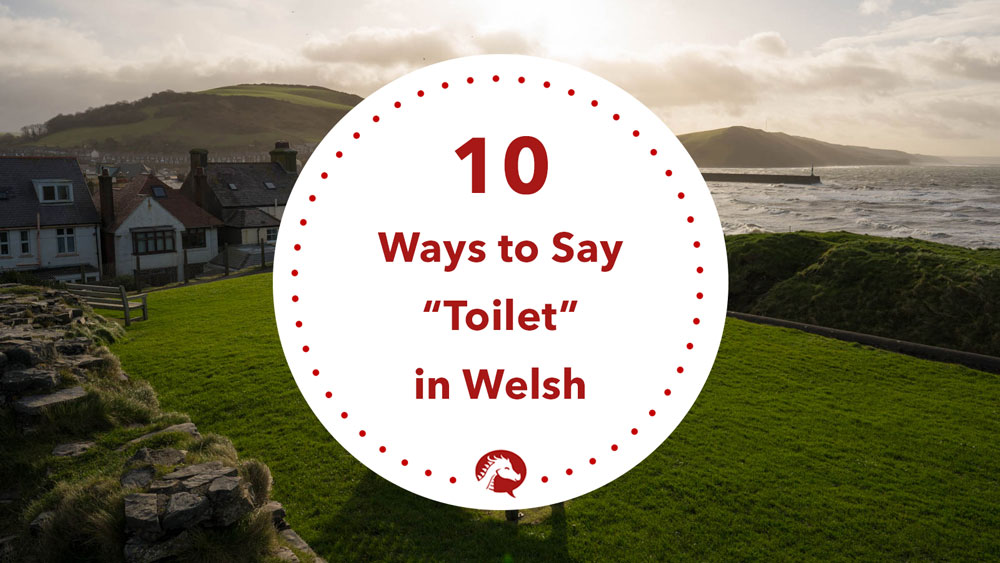 The English have come up with their fair share of nicknames for the humble toilet over the years, and so, too, have the Welsh!
Some are commonly heard across the country whereas others are limited to certain regions. And while many derive from the various English words for toilet, an equal number are original Welsh creations.
Here we've listed the ten most popular but if you can think of any others, we'd be happy to hear about them in the comments section below! 🙂
---
1. Tŷ bach
Tŷ bach (literally "small house") is the generic term for toilet that appears in dictionaries and Welsh language textbooks for learners. It is used across the country in an official capacity but is also the go-to word in southern regions such as Carmarthenshire and Ceredigion. If you learn one word for toilet, this should be it!
---
2. Lle chwech
Up in the north, it is very common to hear the expression lle chwech (literally "place of six") for toilet. It refers to a bygone era when outdoor toilets would have been shared between six terrace households.
---
3. Toiled
Toiled is quite clearly from the English toilet and may also be spelt as such. If you're so desperate for the loo that you can't remember any of the other words on this list, consider it a perfectly safe back-up!
---
4. Laf
Laf, as you've probably guessed, is short for lafatri which comes from the English lavatory. It is a little old-fashioned but don't be surprised if you hear this word as far north as Denbighshire and as far south as Swansea.
---
5. Closed
The word closed, or closat as it is sometimes pronounced, comes from the English closet. It can often be heard in the north.
---
6. Rhows
Rhows (or rhows bach) is a northern term that likely derives from the definite article yr plus the English word house.
---
7. Cachdy
Words don't get much more self-explanatory than cachdy! It is made up of the word cach (excrement) and tŷ (house).
---
8. Peti
Although the term peti can still be heard in the north, it has largely fallen out of fashion. Those who used to say it now tend to prefer other terms like lle chwech. It is thought that the word comes from the French petit (small).
---
9. Geudy
Geudy is yet another northern term that translates as privy, latrine or closet.
---
10. Hows bach
Hows bach is just another way of saying tŷ bach. Some regions may also treat hows as a feminine word (hows fach).
---
Bonus: Welsh toilet euphemisms
In an attempt to avoid saying taboo words related to bodily functions and parts, the Welsh have come up with many fun euphemisms that will certainly put a smile on your face. Here are a few I've come across in my research. (A few might be quite familiar!)
Dw i'n mynd i wario ceiniog. = I'm going to spend a penny.
Dw i'n mynd i edrych am fy modryb. = I'm going to visit my aunt.
Dw i'n mynd i'r House of Lords. = I'm going to the House of Lords.
Dw i'n mynd i weld y cwîn. = I'm going to see the Queen.
Dw i'n mynd i ysgwyd llaw efo tad y plant. = I'm going to shake hands with the children's father.
Dw i' n mynd i holi dyn am geffyl. = I'm going to ask a man about a horse.
Dw i'n mynd i weld Mrs Jones. = I'm going to see Mrs Jones.
Dw i'n mynd i eistedd ar yr orsedd. = I'm going to sit on the throne.
Dw i'n mynd i roi dŵr i'r poni. = I'm going to give water to the pony.
Dw i'n mynd i bendraw'r ardd. = I'm going to the bottom of the garden.