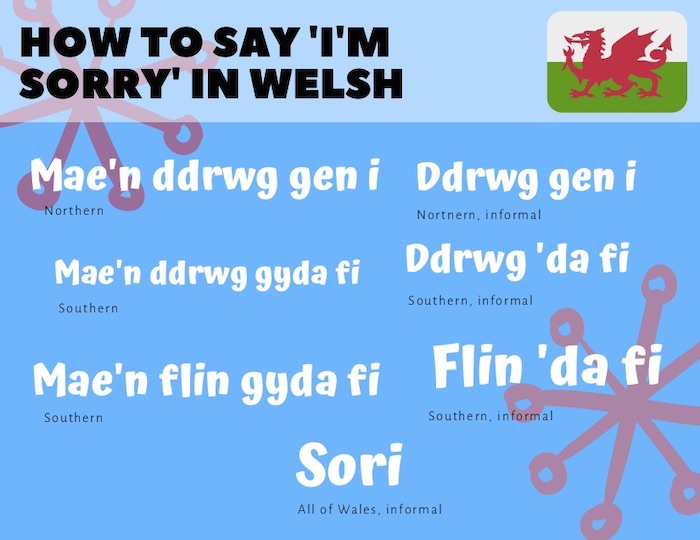 Have you ever wanted to apologise to somebody in Welsh but weren't quite sure how? Well, you've come to the right place! 🙂
In North Wales where I live, the expression you'll generally hear is "Mae'n ddrwg gen i" which literally translates as "It is bad with me" in English.
In the south, you will come across two alternatives: "Mae'n ddrwg (gy)da fi" (It is bad with me) or "Mae'n flin (gy)da fi" (It is troublesome with me). The reason I've put the first part of "gyda" in parentheses is because the word is usually pronounced as "da" in speech.
Note that these expressions can all be shortened in speech by chopping off "mae'n" from the start of the sentence.
Ddrwg gen i!
Ddrwg 'da fi!
Flin 'da fi!
What's interesting is that in everyday speech, the word "sori" is heard much more frequently than any of the expressions above.
Sori 'mod i'n hwyr! = Sorry I'm late!
Sori am fod yn dwpsyn. = Sorry for being a fool.
This is especially true if you're talking to someone familiar and/or the offence committed is minor such as accidentally bumping into someone on the street or missing a phone call. "Mae'n ddrwg gen i / gyda fi" is generally more appropriate in more formal or serious situations.
Just like the English expression "I'm sorry", "Mae'n ddrwg gen i / gyda fi" can be used not only for apologies but also when you are saddened by someone else's misfortune. For example:
Mae'n ddrwg gen i glywed fod ti'n sâl yn yr ysbyty. = I'm sorry to hear that you're sick in the hospital.
Mae'n ddrwg 'da fi bod ti'n cael wythnos mor ofnadwy. = I'm sorry you're having such a terrible week.
However if you want to emphasise that you feel sorry for someone (and that can include yourself), the most common phrase is "teimlo dros" (to feel over).
Dw i'n teimlo drosti, bechod. = I feel sorry for her, poor thing.
Ro'n i'n teimlo dros John y diwrnod hwnnw. = I felt sorry for John that day.
Dw i'n teimlo drosta i fy hun heddiw! = I'm feeling sorry for myself today!
Many speakers may also insert the words "biti / sori / flin" in between "teimlo" and "dros", so be prepared for lots of variation!
On i'n teimlo'n sori dros Rhodri – doedd neb isio ei weld o, druan! = I felt sorry for Rhodri – nobody wanted to see him, poor thing!
Dyn ni gyd yn gwybod bod Meic yn haeddu hynny, ond dw i dal yn teimlo'n flin drosto fe! = We all know Meic deserved that, but I still feel sorry for him!