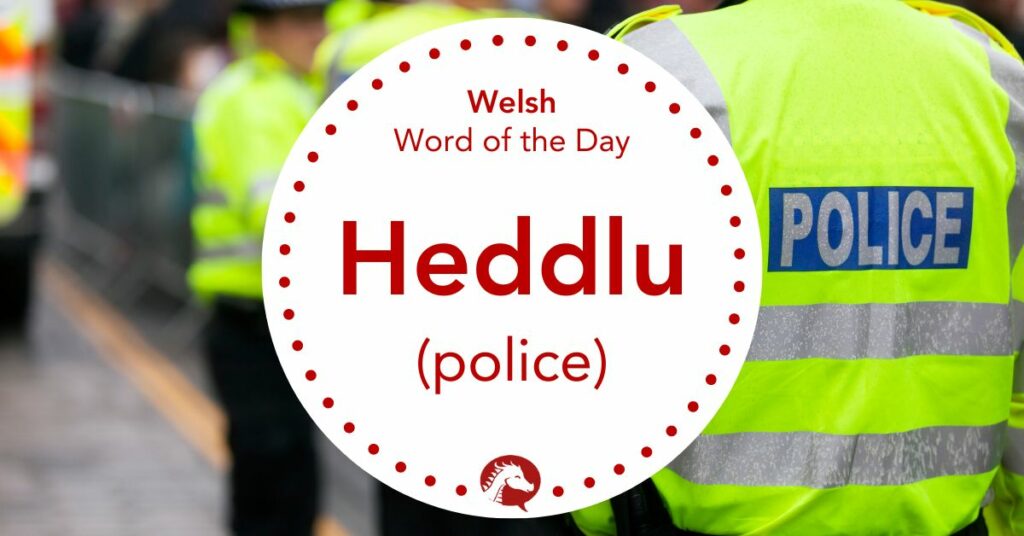 There are two possible ways to say "police" in Welsh: heddlu and plismyn.
The word heddlu is made up of two parts: hedd (meaning "peace") and llu (meaning "a large number of people") whereas the word plismyn is the plural of plismon (policeman) and derives from the English.
Cafodd yr heddlu eu galw i ardal Llanrwst.
The police were called to the Llanrwst area.
---
The four police forces (heddluoedd) in Wales are as follows:
Heddlu Dyfed-Powys = Dyfed-Powys Police
Heddlu Gwent = Gwent Police
Heddlu Gogledd Cymru = North Wales Police
Heddlu De Cymru = South Wales Police
As we saw above, an individual policeman is called a plismon or alternatively heddwas. The respective feminine equivalents are plismones and heddferch and the plurals are plismyn and heddweision.
Below are some important Welsh terms related to the police:
gorsaf heddlu = police station
ci heddlu / ci plismon = police dog
arolygydd yr heddlu = police inspector
heddlu cudd = secret police
gwladwriaeth heddlu = police state
heddlu cudd = secret police
heddlu marchogol = mounted police
The verb to police or patrol is very easy to remember as it sounds just like the English: plismona.
Mae'r heddwas yn plismona strydoedd trefi gogledd Cymru.
The policeman is patrolling the streets of towns in North Wales.
---