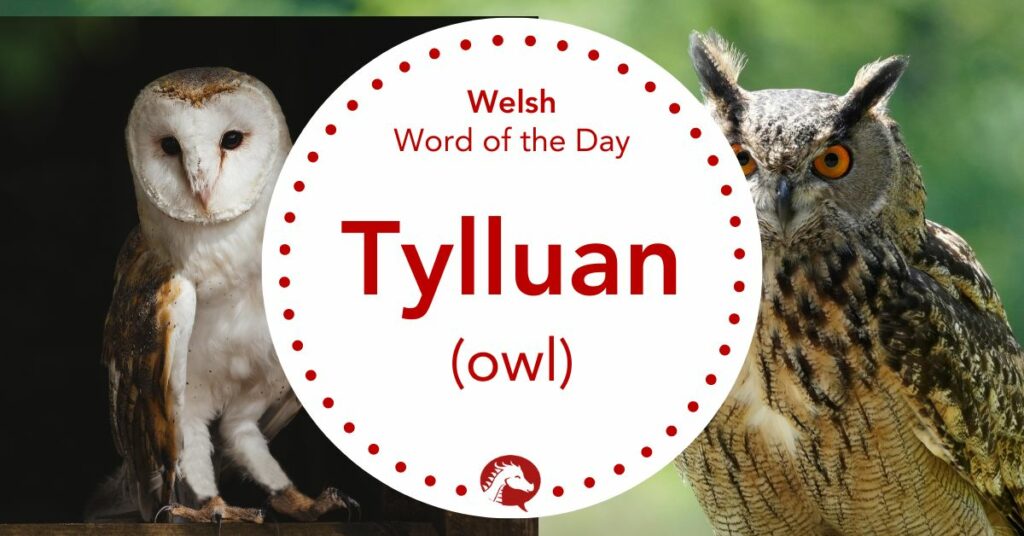 The Welsh word for owl is tylluan and the plural is tylluanod. This word is used across Wales in all dialects.
Tylluan – Tylluanod
Owl – Owls
---
The word makes its earliest appearance in the Llyfr Gwyn Rhydderch (the White Book of Rhydderch), a significant 14th-century manuscript that holds a collection of Welsh legends known as the Mabinogi.
Owls can also be called gwdihŵ (plural: gwdihŵiaid or gwdihŵs), particularly in South Wales. The name when said aloud sounds like the call made by some owls. The hooting of an owl is called cŵan in Welsh.
Gwdihŵ – Gwdihŵiaid – Gwdihŵs
Owl – Owls – Owls
---
Owls are fascinating nocturnal birds of prey, comprising over 200 different species that inhabit various regions across the globe. They can be found in almost every part of the world, excluding the polar ice caps and a few isolated remote islands.
In Wales, you can discover five distinct owl species, including the Barn Owl, Little Owl, Short-Eared Owl, Tawny Owl and the Long-Eared Owl in North Wales.
Here are some names of common owls in Welsh:
Tylluan Scops – Scops Owl
Tylluan yr Eira – Snowy Owl
Tylluan Fach – Little Owl
Tylluan Frech – Tawny Owl
Tylluan Gorniog – Long-eared Owl
Tylluan Glustiog – Short-eared Owl
Eryrdylluan – Eagle Owl
Ellylldylluan – Elf Owl
Eryrdylluan Blakiston – Blakiston's Fish Owl
Tylluan Wen – Barn Owl
The largest owl in the world is the mighty Eryrdylluan Blakiston (Blakiston's Fish Owl), with fully grown males weighing around 3.5kg, and females reaching up to 4.6kg. These magnificent creatures boast an impressive wingspan of up to 200cm.
On the other end of the size spectrum, we find the Ellylldylluan (Elf Owl), known as the tiniest owl in the world, standing at a mere 5 to 6 inches tall and weighing approximately 1 ½ ounces.
While the hooting sound is commonly associated with owls, not all of them hoot. Different owl species have distinct calls and sounds that can vary significantly. The Tylluan Wen (Barn Owl) is known for its eerie hissing sounds, Eastern Screech-Owls emit whinnying calls, and Saw-whet Owls have a unique sound reminiscent of a whetstone sharpening a saw.
Mae tylluan yn y goeden dderw.
There is an owl in the oak tree.
---
Until the 1950s, it was a common practice among farmers to nail a deceased owl to their barn doors as a belief to guard against evil influences and storms.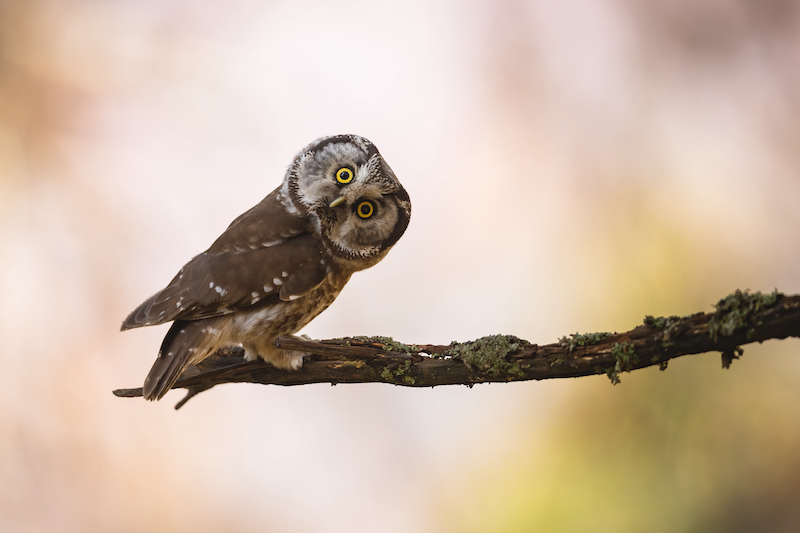 Owls possess a fascinating dual symbolism in various cultures. On one hand, they are often revered as symbols of wisdom and spiritual guidance. However, in Celtic mythology, they also embody a darker aspect, representing death.
In the ancient Welsh tales of the Mabinogion, a compelling story unfolds about Blodeuwedd, whose name translates to 'flower face.' This woman, made entirely of flowers, faced a tragic transformation into an owl as punishment for her infidelity. Forever haunted by other birds, she veils her face in daylight, becoming a poignant symbol of remorse.
In another Welsh legend, the Owl of Cwm Cowlyd resided in the woods encircling Llyn Cowlyd in North Wales. This owl, revered as the oldest and wisest creature on Earth, once held great significance. Though the woods have vanished, the legend endures, perpetuating the owl's wisdom and enchanting tales through generations.
Did you know that…?
In 1997, a Welsh television film titled "Tylluan Wen" (Barn Owl) was brought to life, based on the book "Y Dylluan Wen" authored by Angharad Jones, who also directed the film. This captivating production was a part of the Welsh literature GCSE course until the academic year 2022/23.