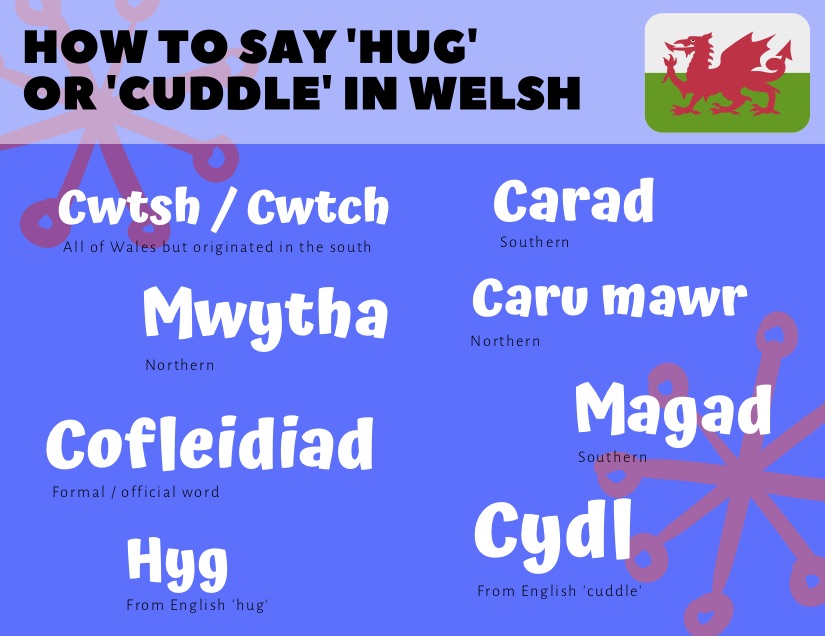 There is a popular saying in Wales: "Anyone can cuddle but only the Welsh can cwtsh!"
'Cwtsh' – or cwtch / cwts / cwtsi as it is alternatively spelt – can be loosely translated as "hug" or "cuddle" in English and is pronounced like the word "butch". It is so popular that the Welsh sometimes use it even when they are speaking in English!
What makes 'cwtshes' different from generic "hugs" is that they are always associated with feeling safe, comfortable and warm. This is why they are reserved for people you truly care about, such as a child, parent or romantic partner. There is no such thing as a casual or unwanted 'cwtsh'!
Now, I would bet that most of you had already heard the word 'cwtsh' before visiting this blog, but did you know that this isn't the only way of saying "hug" or "cuddle" in Welsh?
The official word you'll come across in the dictionary is the verb 'cofleidio' which literally means "to hug" or "to embrace". The noun "hug" is 'cofleidiad' or 'coflaid'.
Mae'n bwysig cofleidio a dangos llawer o gariad tuag at dy blentyn. = It's important to hug and show lots of love towards your child.
Camais heibio iddo fo, heb gynnig gwên na choflaid na chusan. = I stepped past him, without offering a smile or a hug or a kiss. (Llyfr Glas Nebo – Manon Steffan Ros)
Because the word 'cofleidio' is generally used in a more formal context, it is worth familiarising yourself with the various dialectal ways of saying "hug" or "cuddle" in Welsh and using the ones that are popular where you live. Let's take a look at them now!
If you head down to Carmarthenshire and Pembrokeshire, two words you will hear quite often are 'carad' and 'magad'.
Rho / Dere â magad i fi! = Give me a hug!
Rho / Dere â charad i fi! = Give me a hug!
Up in the north around Gwynedd and Anglesey, but even as far south as Aberystwyth, you are much more likely to hear the words 'mwytha' and 'caru mawr'.
Ty'd â mwytha i mi! / Dora fwytha i fi! / Rho fwytha i fi! = Give me a hug!
Ty'd â charu mawr i mi! / Rho garu mawr i fi! = Give me a hug!
Unsurprisingly the English sounding 'hyg' (hug) and 'cydl' have also made their way into the Welsh language, as have the verbs 'hygio' and 'cydlo'. You will encounter them more in the north around Bangor and Caernarfon but it isn't uncommon for people to use them in the south as well.
Tyd / Dere â hyg / cydl i fi! = Give me a hug!
Coming back to 'cwtsh', you may also hear it used as a verb ('cwtsio') in certain parts of South Wales.
Dere 'ma a cwtsio lan! = Lit: Come here and hug up.
---
As you can see, there are lots of ways to hug someone in Welsh! Can you come up with even more words and expressions? If so, I'd love to hear them below in the comment section!