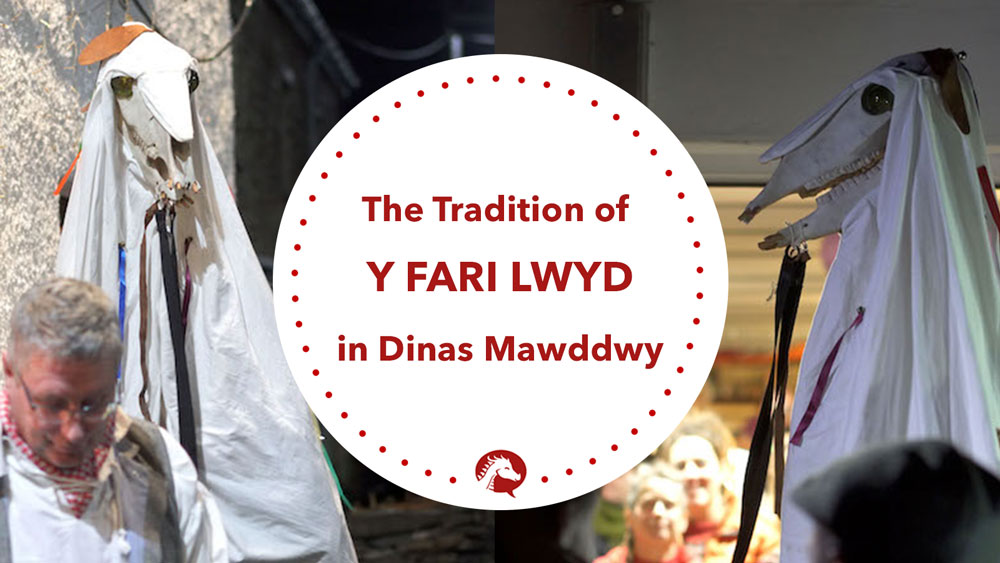 Mari Lwyd (or Y Fari Lwyd) is a uniquely Welsh pagan tradition that predates Christianity. Although typically associated with South Wales, it is celebrated annually on or close to January 13th in the small town of Dinas Mawddwy, located in the heart of Gwynedd in the north.
The tradition involves mounting a horse skull (penglog ceffyl) on a pole and adorning it with bows, ribbons and a ghostly white sheet, under which a person hides and operates the lower jaw. (Yes, Mari is known to bite on occasion! 😉 )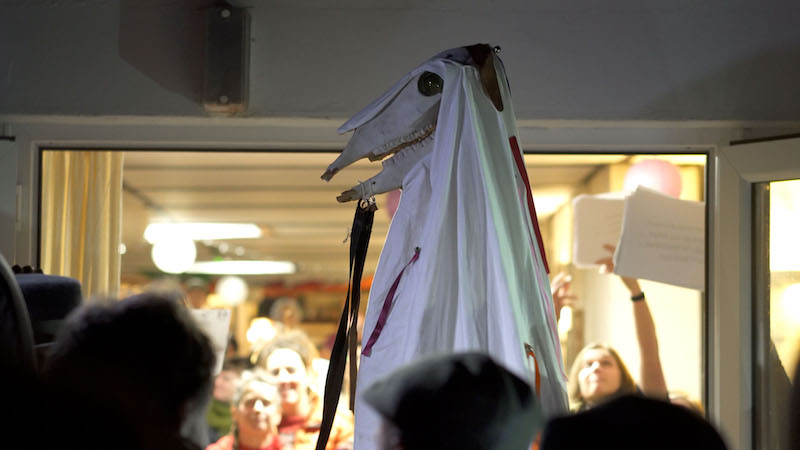 Accompanied by a troop of men often dressed as characters from La Commedia D'Arte, Mari travels from pub to pub in the village and surrounding area, trying to gain entry by engaging in a back-and-forth battle of verses (called punco in Welsh) with those inside the pub.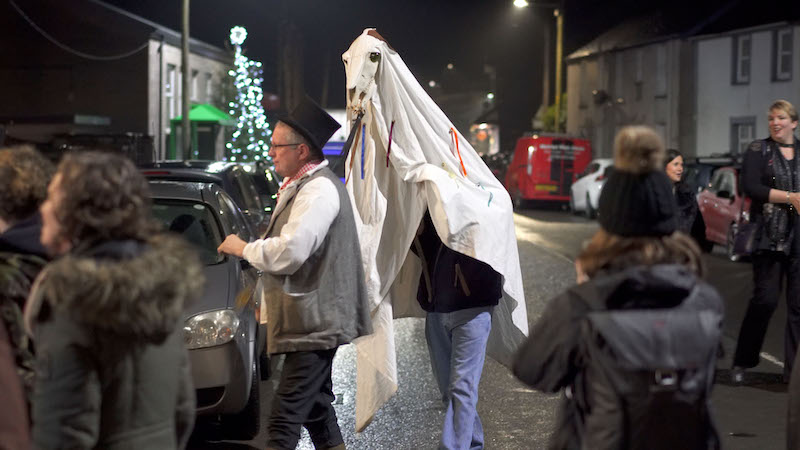 It works something like this: Mari and her troop will sing a clever verse, and the people inside (usually a group of women) have to respond with something even wittier in order to stop her from entering.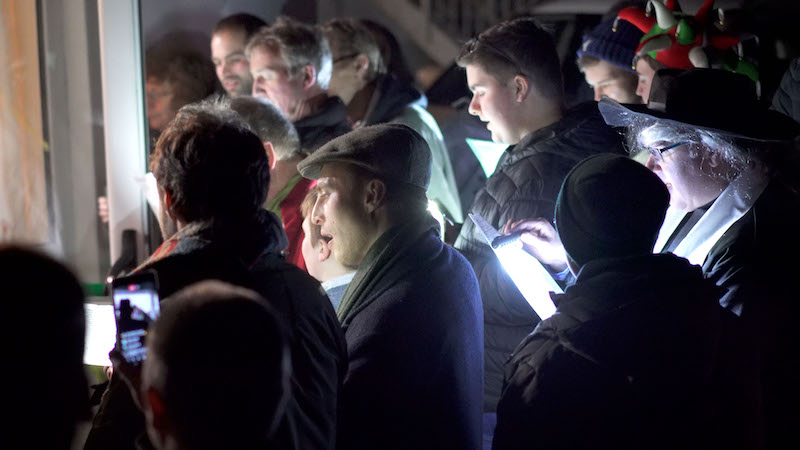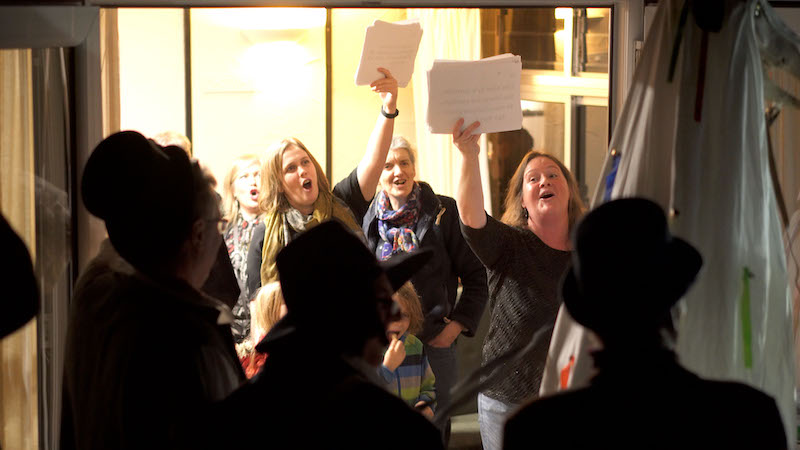 These tuneful battles can go on for up to 15 minutes but inevitably the insiders relent, granting Mari's band access and providing them with food and drink. According to tradition, it is extremely unlucky to refuse Mari entry as she drives away all the bad luck from the previous year!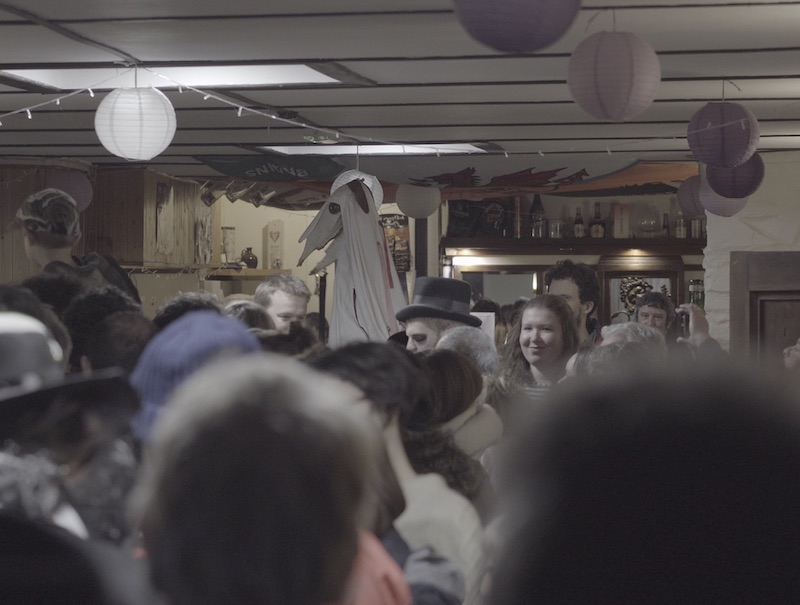 Did you know that: Mari Lwyd translates as Grey Mare!
The night always ends at the Llew Coch pub in Dinas Mawddwy, with Mari and her troop entertaining the pub-goers. Welsh musicians take to the stage with traditional instruments and a twmpath is usually held outside.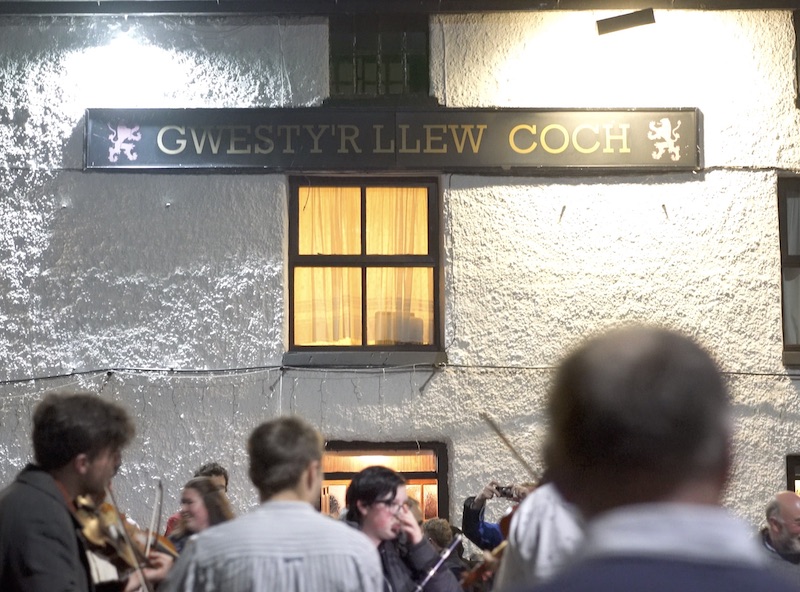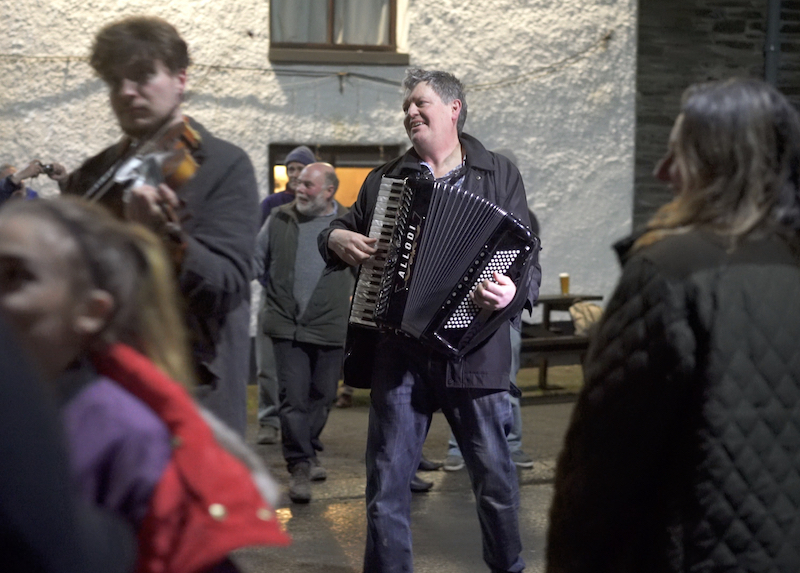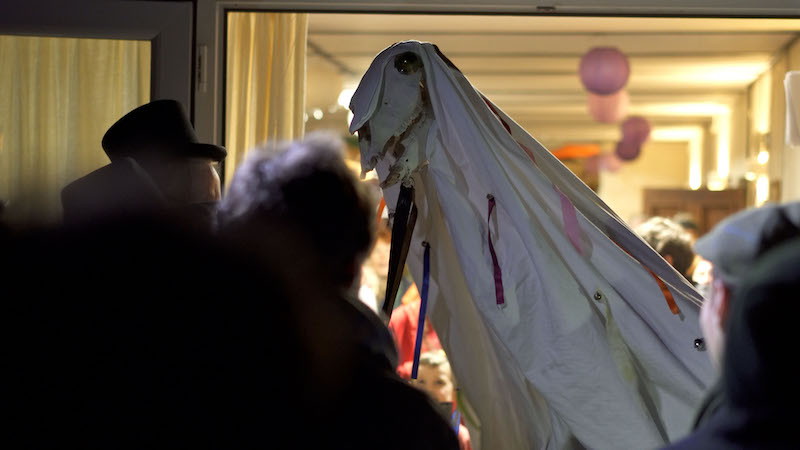 Mari Lwyd may seem like an unusual and somewhat morbid tradition to the uninitiated but I can guarantee that it is a whole lot of fun for the family. Just make sure to warn your children that a horse skeleton is the star of the show and while she may be cheeky, she means well! 😉
---
Pronunciation of Mari Lwyd
Mari Lwyd is often heard as Y Fari Lwyd with 'y' meaning 'the' in Welsh and the 'm' mutating to 'f' due to Mari being a feminine noun. You can hear the correct pronunciation in the video below:
---
Wel Dyma Ni'n Dwad – Cân y Fari Lwyd (Well Here We Come – The Mari Lwyd Song)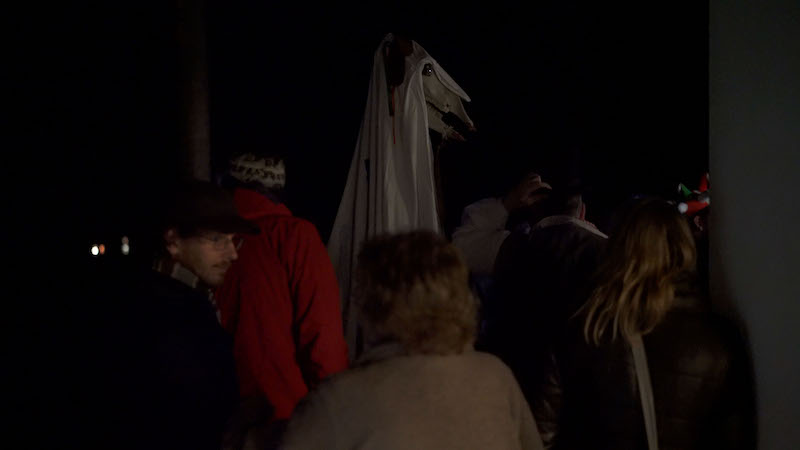 A great way to improve your Welsh is to take part in the battle of verses. In Dinas Mawddwy, the community welcomes learners with open arms and encourages them to take part. Below are the verses that you may hear, although there might be some variation on the order and how many are included. Also keep in mind that they tend to invent new lyrics every year in Dinas Mawddwy – but never fear, they always provide lyric sheets!
Source: Caneuon Gwerin
Male troop
Wel dyma ni'n dwad, gyfeillion diniwad, x2
I ofyn am gennad x3
I ganu
Female troop
Os na chawn ni gennad, Cewch glywed ar ganiad x2
Beth fydd ein dymuniad x3
Nos heno
Male troop
Mae Mari Lwyd yma, a sêr a ribanau x2
Yn werth i roi golau x3
Nos heno
Female troop
O, cerwch ar gered, mae'ch ffordd yn agored x2
Mae'r ffordd yn agored x3
Nos heno
Male troop
Nid ewn ni ar gered, heb dorri ein syched, x2
Heb dorri ein sychedx3
Nos heno
Female troop
Rhowch glywad, wyr doethion, pa faint y'ch o ddynion x2
A beth yn wych union x3
Yw'ch enwau
Male troop
Rhyw griw o wyr hawddgar, rhai gorau y ddaear x2
Yn canu mewn gwir air x3
Am gwrw
Female troop
Rhowch glywad, wyr difrad, o ble rych chi'n dwad x2
A beth yw'ch gofyniad x3
Gaf enwi
Male troop
Mi ddown ni o Lundain, 'fo Mari yn arwain, x2
Mi ganwn yn unsain x3
Am gwrw
Female troop
O, cenwch eich nodau, Ac felly wnawn ninnau x2
A'r sawl a fo orau x3
Gaiff gwrw
Male troop
Mi ganwn am wythnos, ac hefyd bythefnos x2
A mis os bydd achos x3
Baidd i chwi.
Female troop
Mi ganwn am flwyddyn, os cawn Dduw i'n canlyn x2
Heb ofni un gelyn x3
Y gwyliau
Male troop
O tynnwch y bollta, agorwch y drysa, x2
I fois y cwrseila x3
Rhowch groeso
Female troop
Mi dynnwn y bollta, agorwn y drysa, x2
I fois y cwrseila x3
Mae croeso