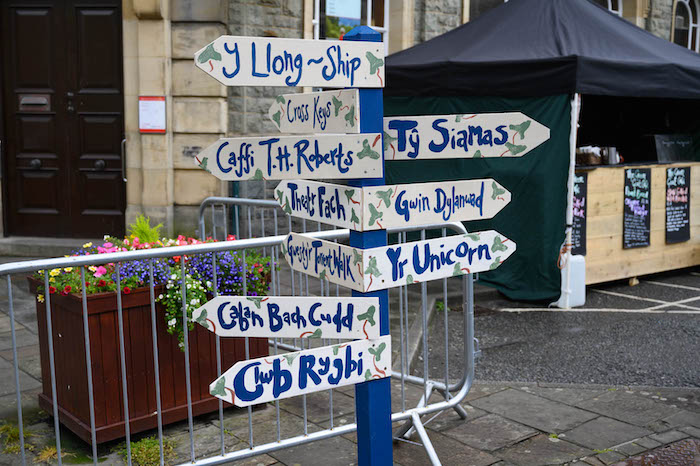 Sesiwn Fawr is one of the most popular music festivals in Wales, attracting thousands of people each year to the historic town of Dolgellau where it has been held since its humble beginnings in 1992.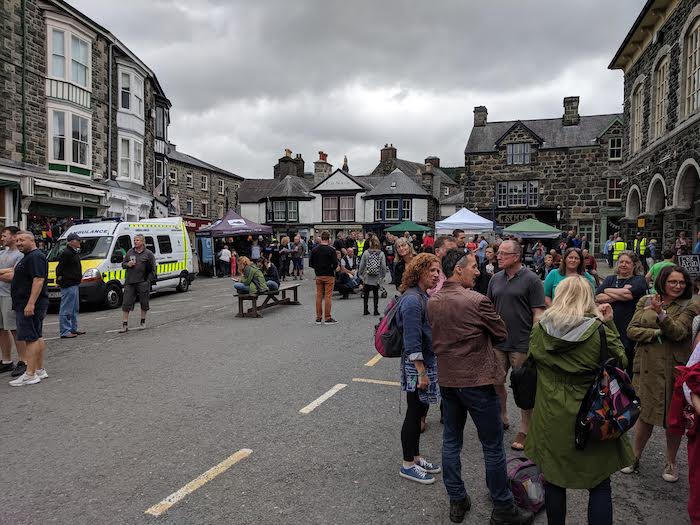 In 2000, it beat out the competition to claim the title of "Welsh Event of the Year" as chosen by the Welsh Tourist Board and has played host to big names such as Super Furry Animals, Meic Stevens, Bryn Fôn, Meinir Gwilym and more. If you're looking for your big break on the Welsh music scene, this is the place to be!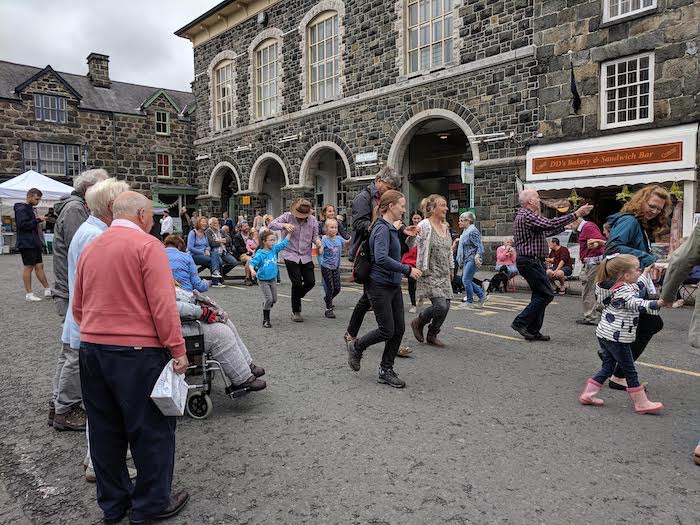 I've been tempted to attend Sesiwn Fawr every year since I moved here, but because my Welsh is far from fluent, I've always ended up finding a half-baked excuse not to go. This year, however, I felt much more confident, having survived both a week-long Welsh Bootcamp with 'Say Something in Welsh' and an interview in Welsh for S4C. Plus, as they say, "does neb wedi boddi mewn sgwrs Gymraeg" (Nobody's drowned in a Welsh conversation) – at least not yet! 🙂
Before the stage performances kicked off, my husband and I took part in a tour of the town called "Darganfod Dolgellau drwy hanes, chwedl a chân" (Discover Dolgellau through history, legend and song).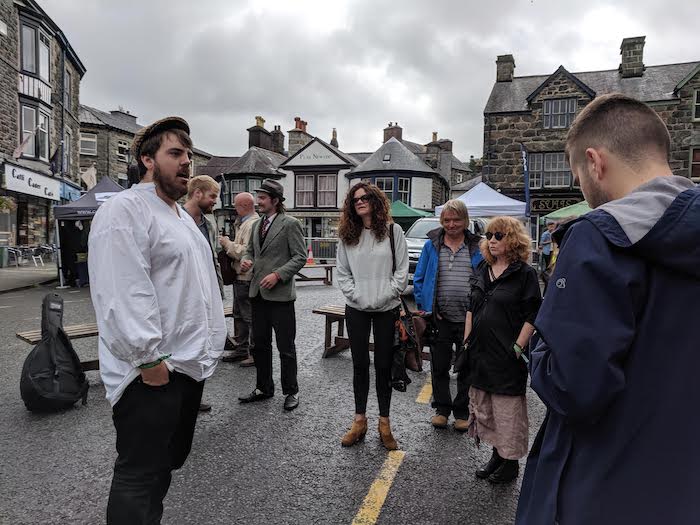 As we walked around the town, our very animated tour guide recounted all the most important events in Dolgellau's history. We were whisked back in time to the 18th century, when the woollen industry was the mainstay of the Dolgellau's economy, and further back still to the mid-1600s, when many of its Quaker inhabitants emigrated to Pennsylvania to escape persecution. There they established a town called Bryn Mawr which still exists today!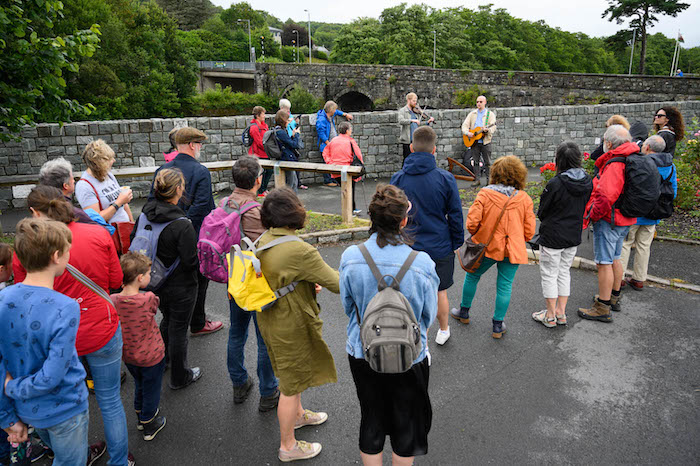 Each story was followed by a musical interlude by folk singers Gwilym Bowen Rhys and Elidyr Glyn, and near the end of the walk, we were each treated to a glass of free cider. It was a lovely way to start the day!
Gwilym Bowen Rhys

Elidyr Glyn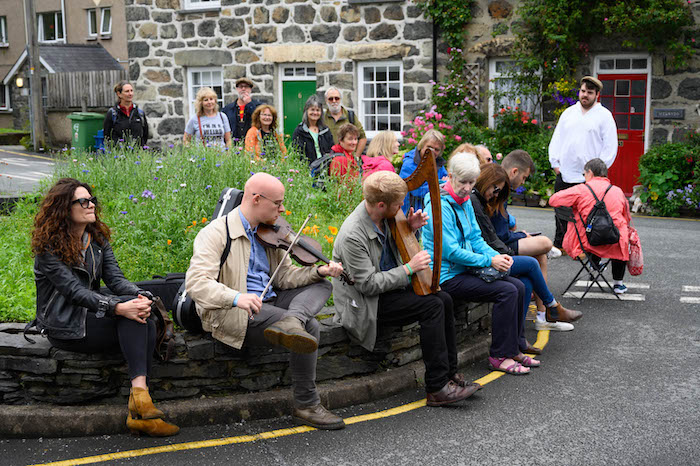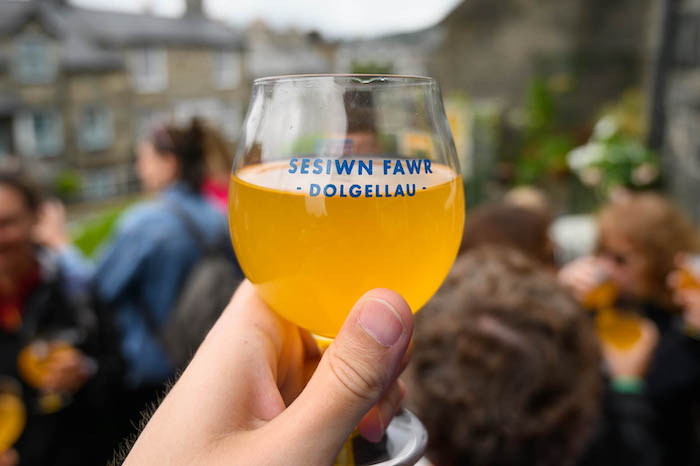 After stopping for a quick lunch at Y Sospan Cafe, we made our way to the main stage where my Welsh tutor Nic and his two sons were already in the middle of performing a fantastic arrangement of traditional Celtic tunes on flute, banjo, double bass, and what appeared to be a penny-whistle. I'd seen the three of them perform a year ago in Machynlleth, and was impressed by how much they've improved, not only musically but also in terms of their confidence. Da iawn hogiau!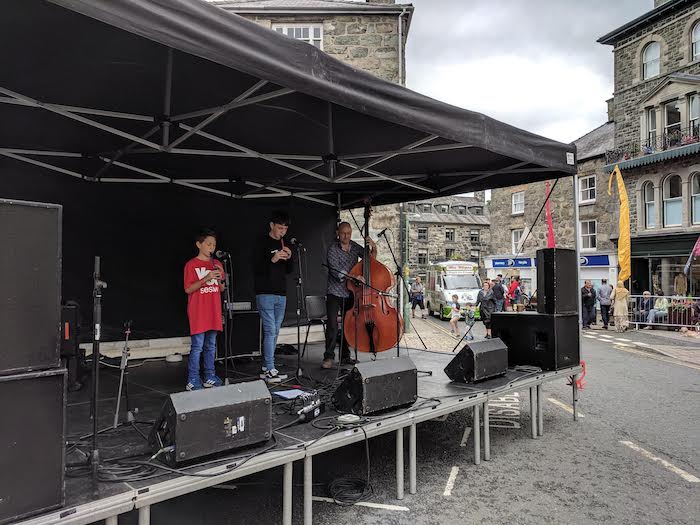 Our next stop was Y Unicorn, a popular pub in the centre of town where Bwncath – one of my favourite Welsh bands – was getting ready to play a one-hour set. And yes, that is Elidyr Glyn again – he's the lead singer/songwriter for the group!
I'd never seen them play live as a group before, and although the sound outside Y Unicorn wasn't the greatest, they put on a crowd-rousing performance that got everyone dancing and singing. I'm usually pretty picky about the kind of music I listen to but their style, being a mix of folk, funk, and rock, is just up my street – plus learning the very poetic lyrics is a great way of improving my vocabulary. 🙂
Back at the centre stage, a number of other bands were entertaining the public including:
Geraint Lovgreen A'r Enw Da, a good-time rock-soul band with a 30 year history
Tacla, a Gypsy Jazz band that my tutor Nic sometimes plays with
Tant, an all-female quintet that sings modern folk music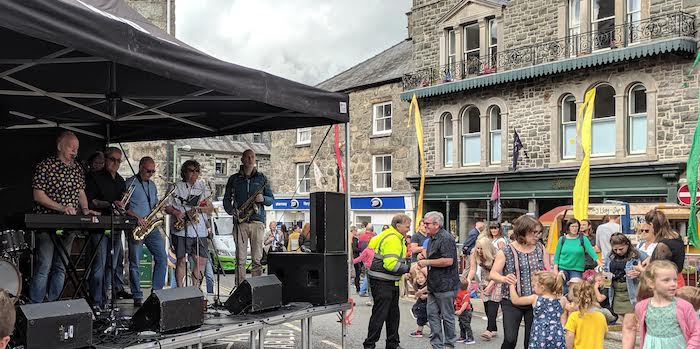 I can't emphasise how heartening it was to see so many families – and young people especially – singing along to all the songs and enjoying the day purely through the medium of Welsh. It was a clear sign to me that the language is alive and well in the Welsh heartlands, in part thanks to modern musical groups such as these who have helped the Welsh language progress and evolve with the times.
Unfortunately I didn't get to speak much Welsh myself due to a nasty cold that made it hard to speak in any language. That said, it was a great listening experience because Welsh was the default language of the event. In fact, some of the signs didn't even have an English translation!
Next year, I'd definitely like to spend more time at Sesiwn Fawr and make a point to listen to as many of the bands as possible in advance so I know who to go and see. 🙂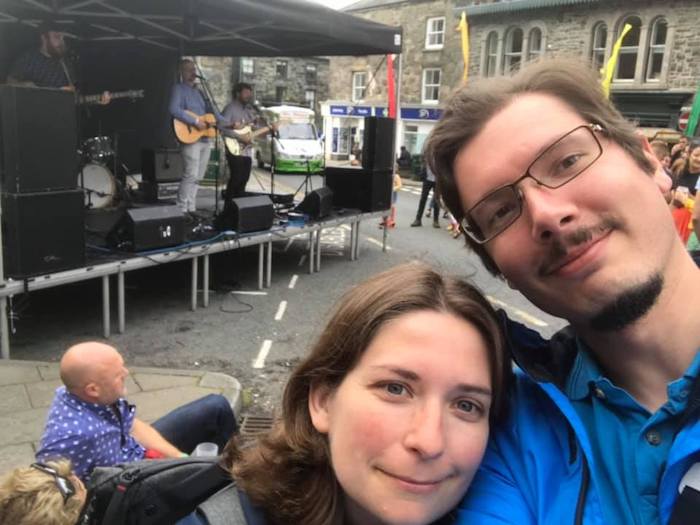 Were you at Sesiwn Fawr this year? If so, which bands did you see and what did you think? 🙂