As with other languages, people use Welsh nicknames to refer to a partner, lover, close friend or a member of their family in informal situations. Some people may choose to use these in public or a more close-knit private setting, depending on the context. In Wales, the older generation seems to use nicknames as a way to refer to the younger generation, for example, a child. They are used to express affection and love or as a term of endearment for someone close to you or someone who means a lot to you.
Want to sound more like a native speaker? Why not try the following nicknames on your Welsh language journey?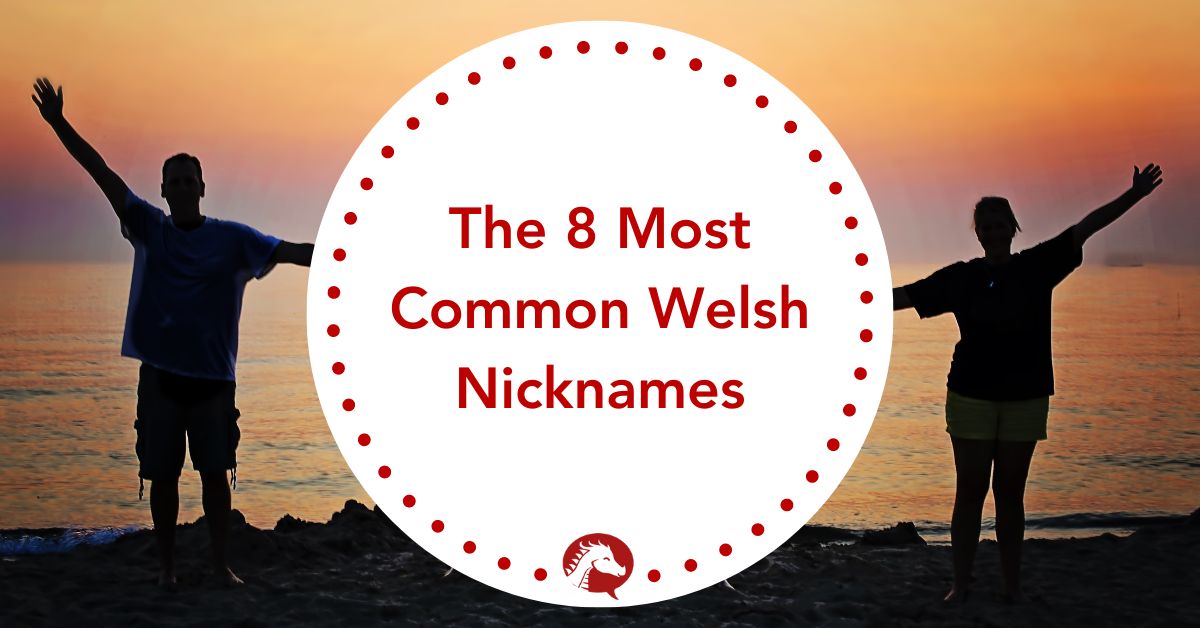 Cariad
---
Let's start with the most common nickname you will hear most people use in Welsh: cariad. This word means "love, charity, affection; beloved one, lover, sweetheart, darling". Variations include:
Fy nghariad = My love
Fy nghariad bach = My little sweetheart
Cariad aur = Precious love / darling
Cariad derives from the word caru, which means "to love/woo" in English. It is common to hear cariad being used as a nickname in all parts of Wales, whether that being the younger generation or the older generation.
Aur / 'raur
---
This means "gold" in English. The English version of this would be "precious" or "precious one".
Ti'n iawn, yr aur? / Ti'n iawn 'raur? = Are you alright, precious?
Del
---
This word means "pretty" in Welsh. In some areas of North Wales, you will hear some people using the phrase Ti'n iawn, del? (You alright, sweetheart?)
This phrase can be used in a friendly way e.g. as a conversation starter, or in a more forward way, so don't be shocked if some people take it as the latter! Del can also be seen as an adjective (Wel dwyt ti'n ddel – Well, aren't you pretty).
Bach
---
You are probably wondering why bach is a Welsh nickname as it literally translates to "small, little, short, dear". However, in Welsh, it is added to names as a term of endearment, e.g. Osian bach (little Osian) or fy mach i (my little one). See how bach has been mutated to mach following fy. Fy + bach = Fy mach.
Blodyn Tatws
---
I think this lovely nickname has got to be one of my favourites. It literally means "potato flowers," and is used as a term of affection. It is also common to hear blodyn by itself, which means "flower", a familiar nickname that is also used to show affection e.g. "Helo, blodyn" (Hello, flower).
Cyw
---
This nickname has a homely feel to it and it literally translates to "young bird, chick; young animal; child; baby". It is used more in North Wales as a term of endearment. You will often hear parents/grandparents using this nickname for their children/grandchildren. Tyrd yma, cyw (Come here, chick.)
Gwas
---
This nickname, which means "boy, lad, youngster", can be used for young boys as a term of endearment. In North Wales, you will hear people saying Fy ngwas i "my boy". Variations of the written form can be seen as "fy ngwash i, ngwas i, gwasi, gwashi or washi". You might even see it next to bach (small) = washi bach.
Pwt
---
Pwt refers to a tiny piece of something, e.g., Ga i dorri pwt bach i ffwrdd? (Can I cut a little piece off?). You will often hear Welsh people using pwt as a term of affection towards young children e.g. Beth sy'n bod, pwt? (What's wrong, little one?).
---
So there you go: eight of the most common nicknames for you to practise in Welsh. Why don't you have a go by adding them to your own vocabulary?