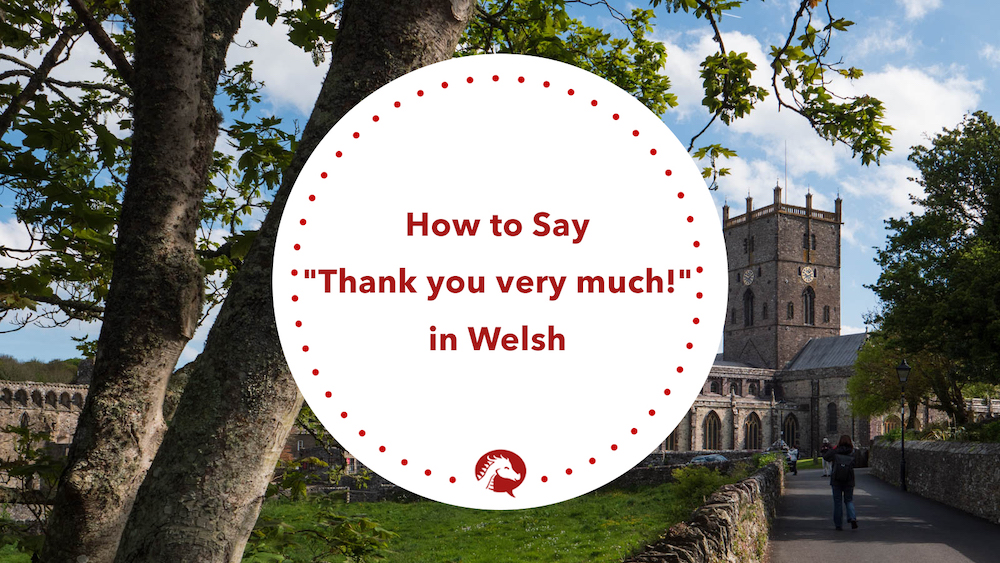 One of the first survival phrases you will have to learn if you move to Wales is "Thank you very much!" This phrase translates as "Diolch yn fawr iawn!"
Dyma chi, pum deg punt. – O, diolch yn fawr iawn.
Here you are, fifteen pounds. – Oh, thank you very much.
Let's break it down into smaller parts so we can see which words make up the expression.
diolch = thanks
yn fawr = big
iawn = very
So the literal translation would be something along the lines of "A very big thanks!"
Now, don't be intimidated by the spelling of the phrase! The pronunciation is actually quite easy if you can get your tongue (or should I say throat) around the voiceless uvular fricative ch in the word diolch. (It sounds like the ch in the Scottish word loch if that helps!) The video below should give you a clear idea of how to pronounce it correctly.
The particle yn is pronounced un (as in "under"), fawr is pronounced vawr, and iawn is pronounced yah-woon. Have a listen to the kids in the video below to hear the correct pronunciation!
If you want to make it clear who you are thanking to add some extra emphasis, you can add the preposition i (to) plus an indirect object pronoun such as ti (you, singular) or chi (you, formal or plural) after the expression.
Diolch yn fawr iawn i ti am ddod!
Thank you very much (to you) for coming!